Jos de Beus Lecture 2018 by Prof. Jacob T. Levy (McGill)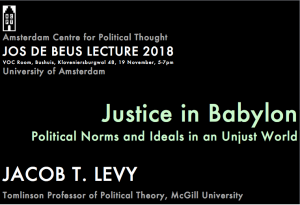 Date & time: Monday 19 November 2018, 17.00-19.00 hrs.
Location: VOC-room, Bushuis, Kloveniersburgwal 48, Amsterdam
Entrance is free, registration is not required.
Title
'Justice in Babylon: Political Norms and Ideals in an Unjust World'
About
Jacob T. Levy is Tomlinson Professor of Political Theory, Professor of Political Science, and associated faculty in the Department of Philosophy at McGill University. His areas of research include liberal and constitutional theory, federalism and local self-government, multiculturalism and nationalism, freedom of association, and the history of political thought, especially centered on the eighteenth century and Montesquieu. He is the author of The Multiculturalism of Fear (OUP 2000) and Rationalism, Pluralism, and Freedom (OUP 2014), and editor or coeditor of Colonialism and Its Legacies, Nomos LV: Federalism and Subsidiarity, and the forthcoming Oxford Handbook of Classics in Contemporary Political Theory.
The Jos de Beus Lecture 2018 is made possible by the research group Challenges to Democratic Representation of the Department of Political Science at the University of Amsterdam.